Looks like there's a little over a week left until the new year...
So what better way to celebrate than to recap (mostly) everything that happened in the past year!
In all honesty, I felt that 2022 was one of my best years in terms of both productivity and getting in touch with so many people both new and old! Even though there were a couple downs during that period, for the most part, the good elements outweighed anything negative. So let's go down the rabbit hole!
At the beginning of this year, I helped contribute some art for the House of Cosbys Cover Collab run by @Sardinky and @Awful-Ike!
In addition, the Evangelion Collab released in March! (technically I finished my entry in September 2021 but shhhhh) Both @Wandaboy and @Magibauble did an excellent job orchestrating the project together, and I am forever grateful for being able to make a full cartoon for it, along with the logo!
In that same month, I also made a short lil Family Guy animation that was originally supposed to be for a spam collab run by @Joe-Mega, but was unfortunately cancelled in April. As such, I uploaded the cartoon on its own.
And speaking of April, I was invited by @Potatoman to draw up a Dankmen profile picture for the official April Fools event hosted here on Newgrounds, which eventually lead to custom profile picture shapes being rolled out. Still one of the best features to come out in regards to pure customisation, especially in an era of circles throughout nearly all of social media.
Quick tangent, but this year (especially May onwards) was when I began to gradually improve in my art skills and becoming more confident with drawing a larger array of full-body poses, as well as cel-shading, which were areas that I initially held off of for a while, but now I'm glad I put in the effort. Below are a couple of my personal favourite illustrations from throughout 2022:
This year also marked the final stretch of my tertiary studies at SAE Institute! During that period of time, I helped create two short animations: the first being a 3D film about a student overcoming their fears of being judged by others, and the other being a short 2D snippet with an emphasis on world building.
But both of those don't compare to the biggest project out of all of them. Over the past six months, I had helped out with producing and animating @ayofern's short film: Girls Night, which finished production less than a week ago! We both had to push through in the last few weeks of production, and if it weren't for the amazing team involved in assisting us, we wouldn't be able to finish it in time, so to them I say, you all rule! Currently, we're adding some final polish to the film with the plans to release it on Boxing Day (December 26th), and possibly even premiere it in a certain annual game going around this month... We'll just have to wait and see!
UPDATE: IT'S OUT GO CHECK IT OUT IF YOU HAVENT YET HFDSIHIFDSHJI
In the meantime, in August, I got to create a short Powerpuff Girls parody for @Sevi's Toonami Collab, as well as the official logo for the whole shebang!
And a month later, I whipped up a new animation showreel with some of the work I've made over the past two years, alongside launching my own personal portfolio.
https://ryankelso.myportfolio.com/
From October to early December, I also had to opportunity to do some work placement for Smash Button Games, where I was in charge of creating UI assets for a party game that's in the works currently! Below is a link that contains what I've done during the internship, but I plan on making a full post on here and Twitter documenting my work once the game is released!
https://ryankelso.myportfolio.com/logo-design
Moving on to the last two months: November and December. These two combined were absolutely jam packed with events, not to mention being at the final stretch of our short film.
First up was my birthday on the 3rd of November, where I caught up with a bunch of mates from college (+ @LiteralHat who came along too) for dinner! Not sure if we wanna go to the hotpot place again after spending $400 in total WHOOPS
Then, later in the month, was the official Newgrounds Sydney Meetup hosted by @plufmot and myself! I would go into more detail if it weren't for @chipollo's excellent recap of the event in their end of year post. If you wanna check out all the nitty grittys of what happened that day, go and read their news post! Seriously, you won't regret it!
https://chipollo.newgrounds.com/news/post/1326786
https://nexketch.newgrounds.com/news/post/1321243 (plus nex's post teehee)
As for me, the whole event was an absolute blast, especially when it came to meeting an amazing group of people who I had only previously known through the web. Chatting with one and another about the animation industry here in Australia and many other topics, roaming the streets of Sydney (and losing Benny like three times sweet jesus) and gettin some good grub were only but a few of the events that transpired. We went bowling and got shitfaced too!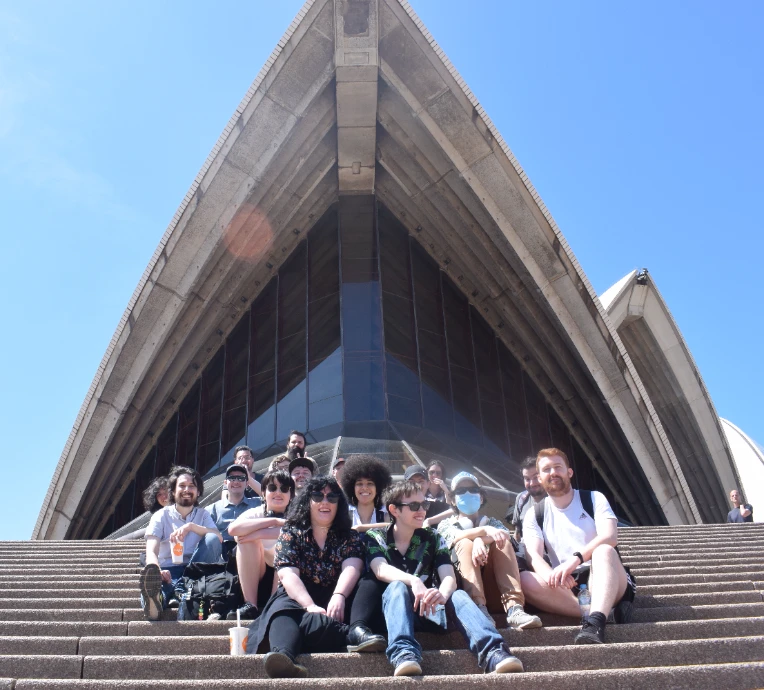 Massive shoutout to everyone who came down to the event, and especially those who flew all the way to get here from Melbourne, Brisbane, Perth and Hobart!
@Chag (a.k.a. Onion Skin on YouTube!)
@cryptae (not pictured)
@DongffTK (and his partner)
@Oscura (not pictured)
@/par0llel - they're not on NG, but I'd kill to see em here! (not pictured)
@wellie (not pictured)
Finally, we get to the present. December was also pretty full on, with @ayofern and I putting out all the stops on our film. I also had the chance to do some logo design for @em11y's film: A Riot of Colour, which you can check out now on NG!
I also had the chance to help organise this year's Sketch Collab with @midgetsausage and @Ozone!
And to top it off, just a week ago, I was given the opportunity to handle clean-up animation and colouring on a paid project for a massive channel on YouTube, with the video being scheduled to release within the next few days! (I'll update this post with a link to the full video once it's out). While I can't document much about the project until its released, I really got to test my skills with the shots I was given, and despite some occasional hurdles, I'm honestly really proud with how some of my shots turned out!
UPDATE: The cartoon's out! https://www.youtube.com/watch?v=sl_l7pcjdfs
Onto next year! With college out of the way, I plan to dedicate more time to creating art and animations, and especially want to focus on moving away from collabs into more original works. Even if I'm not a good script writer or comedian, practice makes perfect! And even if some of those projects fall flat, they will still be beneficial in helping to improve my craft.
Furthermore, once my current project with the YT channel is complete, the crew is planning on bringing me on to work on future project with them, including some rough animation work, which is honestly sick!
As for a project I can actually talk about, I'm currently helping @TappyWara out on hosting the upcoming Cartoon Network Collab, while also creating a short animation for it. What is it gonna be about?
Why would I tell ya? Wait until the whole things out!
Jokes aside, I'm honestly super proud with out this year turned out, and I can't wait to see what's in store in 2023!
Take care everyone, and peace out!
- Ryan K (RGP)